Shop Our Upcycled Snacks!
Check Out our Latest New's Features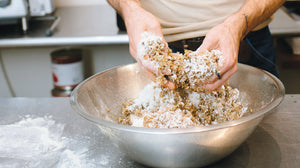 What are Spent grains?
Spent grains are a valuable by-product from the beer making process. They are rich in amino acids, protein, fiber, and most importantly, flavor!
To start the brewing process, brewers steep super high-quality grains, like barley, in water. They then strain this mixture, keeping the liquid to make beer and discarding the "spent" grains.
Turns out, these grains are still incredibly flavorful AND the steeping process actually unlocks valuable nutrients. – Kyle